Vinyl
is an upcoming American television drama created by Terence Winter. It is scheduled to premiere on HBO on February 14, 2016. The pilot was written by Winter and George Mastras and directed by Martin Scorsese.
The first season will consist of 10 episodes.
Set in 1970s New York, Vinyl follows the exploits of record label president, Richie Finestra as he navigates through the sex and drug-addled music business. Finestra is desperate to save his company and his soul without destroying everyone in his path. Additional series regulars include Olivia Wilde, Ray Romano, Ato Essandoh, Max Casella, P.J. Byrne, J.C. MacKenzie, Birgitte Hjort Sørensen, Juno Temple, Jack Quaid, James Jagger and Paul Ben-Victor. Executive produced by Martin Scorsese, Mick Jagger, Terence Winter, Rick Yorn, Victoria Pearman, Emma Tillinger Koskoff, John Melfi and Allen Coulter. Winter serves as showrunner.
Reoccurring
Edit
Soundtrack
Edit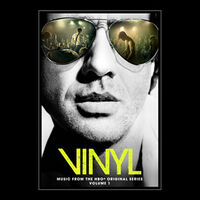 Vinyl: Music From the HBO Original Series- Volume 1
is a collection of 18 tracks that appear in the premiere episode, ranging from songs from the period, songs used in fantasy sequences/flashbacks, and tunes performed by the characters, such as
Nasty Bits
' "
Rotten Apple
," written by James and Mick Jagger, Luis Felber and James Dunson. The soundtrack will be released on Feburary 12th, 2016.
The soundtrack will be available in physical and digital releases. Following Volume 1's release, each Friday, Atlantic and Warner Bros. will digitally release an EP with music featured in and inspired by the upcoming Sunday's episode.
Ty Taylor - The World Is Yours
David Johansen - Personality Crisis
Kaleo - No Good
Sturgill Simpson - Sugar Daddy (Theme from Vinyl)
Ruth Brown - Mama He Treats Your Daughter Mean
Otis Redding - Mr. Pitiful
Dee Dee Warwick - Suspicious Minds
Mott the Hoople - All The Way From Memphis
David Johansen - Stranded In The Jungle
Chris Kenner - I Like It Like That
Ty Taylor - Cha Cha Twist
The Jimmy Castor Bunch - It's Just Begun
Soda Machine - Want Ads
The Meters - Hand Clapping Song
Soda Machine – Slippin' Into Darkness
Edgar Winter - Frankenstein
Nasty Bits - Rotten Apple
Foghat - I Just Want To Make Love To You
External Links
Edit
Ad blocker interference detected!
Wikia is a free-to-use site that makes money from advertising. We have a modified experience for viewers using ad blockers

Wikia is not accessible if you've made further modifications. Remove the custom ad blocker rule(s) and the page will load as expected.